Sharad Navratri 2017 start today, 21st September 2017 and will go on for 9 nine days till 29th September 2017. There are a total of four Navratris in a year, but only two of them – Chaitra Navratri and Sharad Navratri – are celebrated in a grand way. Sharad Navratri is believed to be one of the most significant of all the Navratris and is celebrated in the holy month of Ashwin. It is also known as Maha Navaratri. The word 'Navratri' translates into '9 nights' in Sanskrit. During these 9 days, Hindus perform several pujas, offer delicious bhog and Prasad to Goddess Durga and observe ritualistic fasts to please their beloved deity. Those observing the fasts refrain from consuming any cereals, non-vegetarian food and alcohol. They prepare their daily meals with vrat ingredients like Singhara atta, buckwheat flour, sabudana, fresh fruits, sendha namak and samak ke chaawal. Several popular fasting dishes like Kuttu Puri, Saboodana Kheer and Vrat Wale Aloo are pouplar during Navratri celebrations. Dedicated to the nine forms of Durga or Navdurga, Navratri is celebrated in honour of Goddess Durga or Shakti – the most powerful feminine power. Among the many rituals of Navratri, there is also a common tradition followed by women across Gujarat and Maharashtra where they dress in beautiful dresses according to special Navratri colours dedicated to each of the nine days and the nine forms of Goddess Durga.
The first Navratri colour is decided based on the day when the festival begins (Ghatsthapna or Pratipada ) and for the rest of the week, a fixed cycle of colors is followed. This year, as you adorn yourself in these bright hues of devotion, take the festive spirit a notch higher by including these colour co-ordinated, pure vegetarian dishes to your daily meals. During Navratri, it is common that those who are not observing the fasts tend to follow an all-vegetarian diet. Here are the nine Navratri colours 2017 paired with some of our best vegetarian recipes.
Day 1 (Pratipada) 21st September 2017: Colour of the day -Yellow
The first Navratri colour this year is yellow, and can there be a brighter start to the season of festivities? We don't think so. On this day, try this Aloo ki Khichdi, a wholesome and delicious khichdi made without any cereals or pulses. The Parsai ke Chawal tempered and sauteed in ghee with potatoes makes for a lip-smacking Navratri recipe.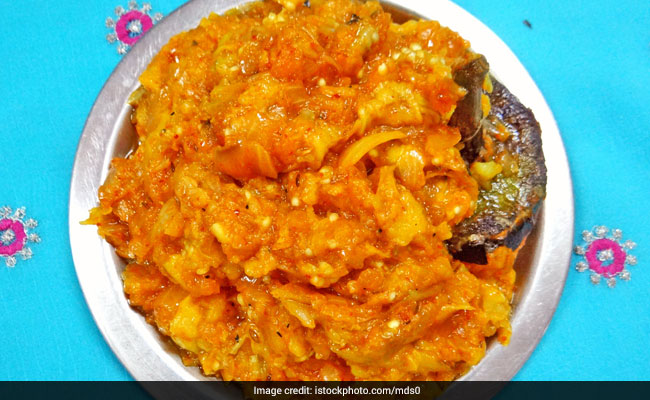 Day 2 (Dwitiya) 22nd September 2017: Colour of the day- Green
The second Navratri colour is the cool and comforting green. You can try our another hit Vrat ecipe of Kacche Kele ki Tikki, a well-known Awadhi dish made with raw banana pulp, commonly served as an accompaniment with rotis and if you ask us, they are pretty good on their own too.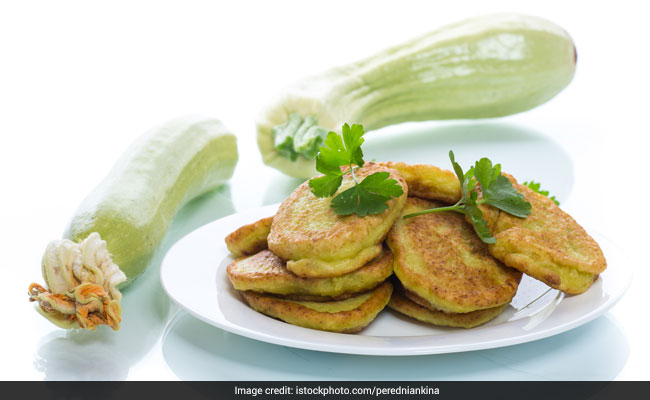 Day 3 (Tritiya) 23rd September 2017: Colour of the day – Grey
The Navratri colour for the third day is grey. During this period and even otherwise, we do not suggest you use any artificial colouring or additives in your food. Natural ingredients are the best and delicious too. You can try making Sabudana Papad or a rich Makhana Kheer for the day to mark your devotion towards Goddess Durga.
Day 4 (Chaturthi) 24th September 2017: Colour of the Day- Orange
The navrtari colour for the fourth day is orange, and a bite of the beautiful Pumpkin and Apple Halwa is sure to make your day. Bright orange in hue, this delicious halwa is made with the goodness of apples, pumpkin and plenty of chunky dry fruits. You can also offer the halwa as the bhog to the Goddess.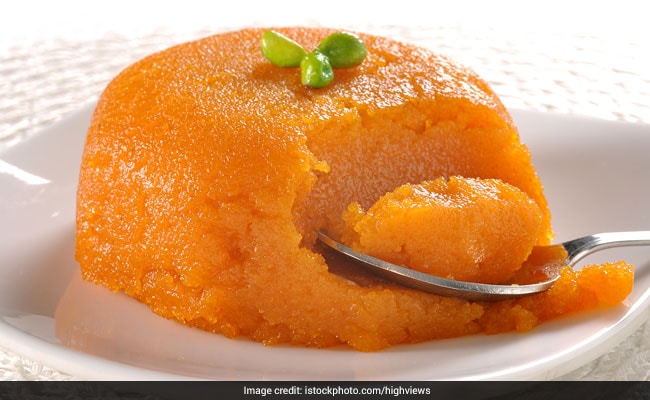 Day 5 (Panchami) 25th September 2017: Colour of the day- White
White is the Navratri colour for the 5th day, and we have narrowed down on the Vrat classic – Sabudana Kheer as the dish for the day. The delicious festive dessert made with sabudana (tapioca pearls) and flavored with cardamom and saffron is both wholesome and sumptuous. You can also offer this delicious kheer to Goddess Durga as bhog.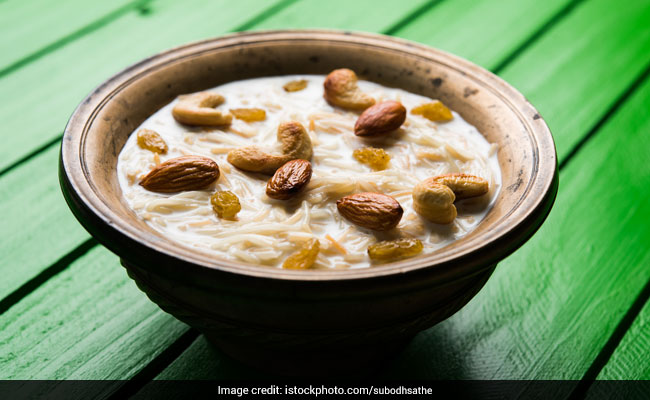 Day 6 (Shashti) 26th September: Colour of the Day-Red
The Navratri colour for the sixth day or Shashti is red. Navratri is the celebration of Goddess Durga and her power that helped her triumph over the invincible demon Mahishasura. Red is often the colour associated with force and power much like the sindhi Tamatar Kadhi cooked with homemade tomato puree and vegetables. Serve it with rice and aloo tuk to make a complete meal.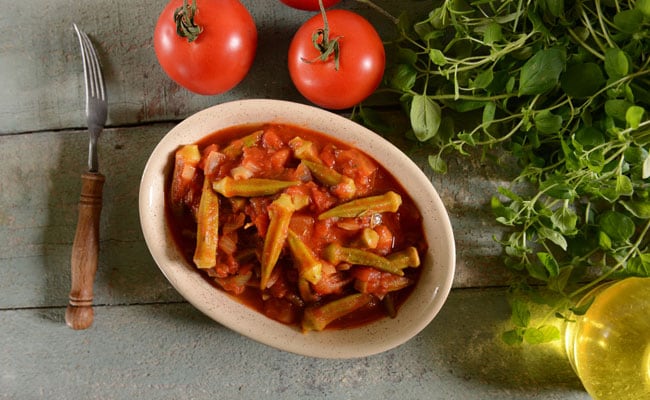 Day 7 (Saptami) 27th September 2017: Colour of the Day-Royal Blue
Royal Blue is the Navratri colour for the seventh day or Saptami. While food colours and food additives can turn transform any dish, we don't quite recommend them. If you've ever experimented with this colour in cooking by using natural ingredients, do share it with us.
Day 8 (Ashtami) 28th September 2017: Colour of the Day-Pink
The eighth Navratri colour is pink and you must try our lovely Gulab Phirni. Pretty and pink, this delectable and fragrant milk and rice based Indian dessert is made by thickening milk with rice flour and is flavored with cardamom, saffron, rose water and rose petal powder.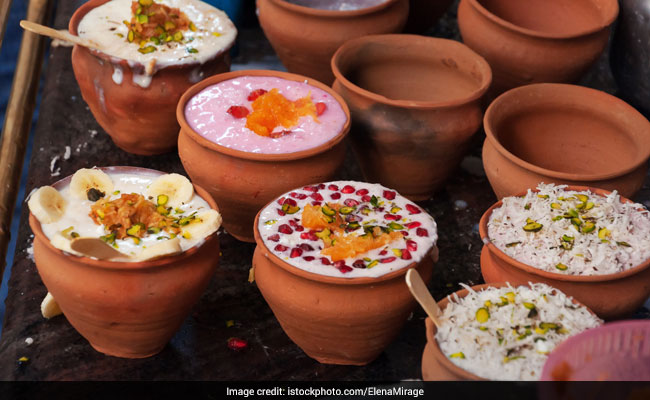 Day 9 (Navami) 29th September 2017: Colour of the Day- Purple
Purple is the last Navratri colour for Navratri 2017. Think purple and one is instantly reminded of the quintessential vegetable – brinjal. If you are a brinjal fan, try this Bharwa Baingan recipe which consists of small brinjals stuffed with homemade masala.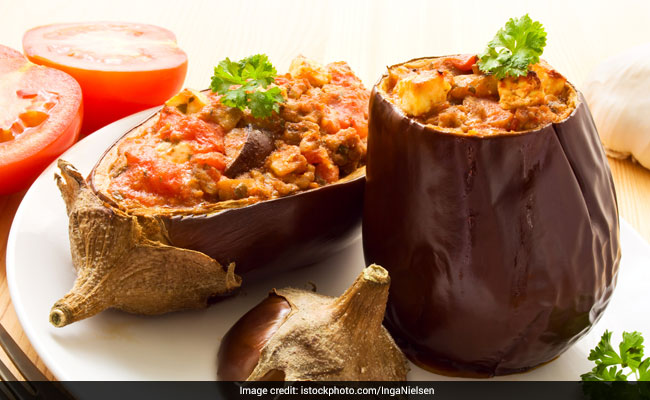 So, what are you waiting for? Take a note of the dates and the colours and impress your loved ones with these colourful and delicious recipes. Happy Sharad Navratri 2017!