If not exactly a revolution, France is undergoing a vegetarian insurgence. Paris's Veggietown, the 9th arrondissement, now contains 11 vegetarian or vegan restaurants, as well as the offices of Slowly Veggie, one of a clutch of new specialist French magazines.
This wouldn't be surprising in the increasingly vegan-friendly UK, but we're in one of Europe's last carnivore outposts. I remember the days when vegetarians were offered fish, or if they insisted an omelette, and there were doubtless restaurateurs who thought steak cooked longer-than-bloody was borderline vegan. But meat consumption has dropped by 20 kilos per annum per person over the past two years and 2 million French have given it up.  
"When we started four years ago", says Coralie Jouhier, co-owner of Le Tricycle, a cramped little café on the ground floor of a faded but grand 18th-century hôtel particulier, "there were still people who looked at you as if you were mad. Now they're much happier to try vegetarian cooking, even if they don't become totally vegetarian". These are the "flexitariens", often middle class parents in their twenties and thirties, who dine in Veggietown.
Jouhier serves me her speciality: a "hot dog" adorned with confit and fried onions and grated vinegar-dressed carrots. Jouhier is a self-taught cook and a Rastafarian, which explains the Bob Marley soundtrack and the mix of French Creole and Rastafarian "ital" cuisine Le Tricycle is aiming for. Fried plantains with coriander and sesame seeds in slightly sweet dressing typify this, though the vegan frankfurters, imported from Germany, market leader in health foods, are more mad Teutonic scientist than tropical hedonist.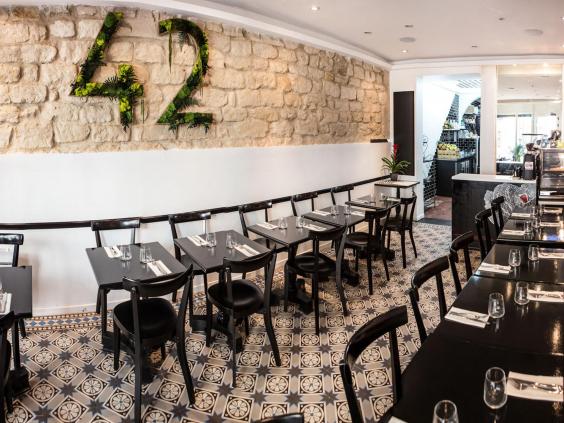 Raw deal: 42 Degrés' vegan dishes are inspired by Californian raw-food pioneer Matthew Kinney
Onward a few blocks to 42 Degrés, where chef Fabien Borgel uses his decade's traditional restaurant experience to concoct dishes in the spirit of the French staples, but following the precepts of raw vegan cooking of the Californian pioneer, Matthew Kinney. I taste a curry of vegetables in tamarind and coconut sauce: quite pleasant, with a certain resemblance not to curry as we know it, but to an old fashioned plate of crudites, with the vinaigrette replaced by a light fresh coconut-flavoured dressing.
So far so good but next it's vegan cheese, or vromage. One of the side-effects of the Nordic origin of much veg theory is an unusually excruciating outbreak of the Franglais puns the French love: 42 Degrés' "cheese" is made basically of cashew paste, and appears is "frawmage" on the menu. It comes in three styles, flavoured variously with pepper, spirulina, and mustard seeds and cider vinegar. The last of these is named, I'm blushing as I type, "rawmember", a reference not to an unpleasant medical condition, but to France's national cheese. It's odd stuff, not quite as bad as it sounds, like a sort of faintly peppery, spicy, hard-ish crème caramel minus the caramel. And obviously the crème. Is Normandy-born Borgel, a man with camembert virtually in his DNA, a vegan? "No", he says. "I eat much less meat now, but I do eat a lot of real cheese."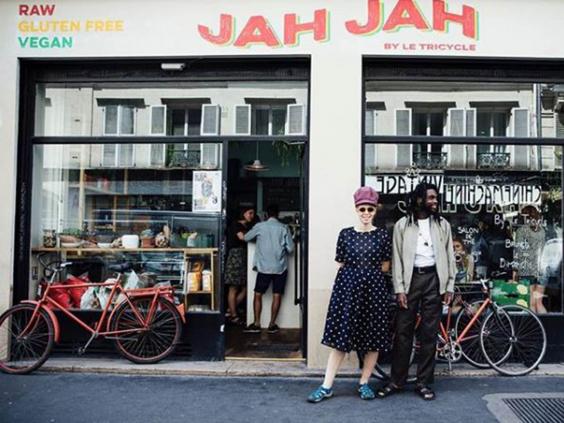 Rasta fare: Coralie Jouhier outside her ital food outlet (Le Tricycle)
Animal welfare concerns – heightened by documentaries on abattoirs – and the pervasive cultural influence of the Anglo world are two major factors in French vegetarian conversion. Another is a decade-long movement among the upper echelons of the country's chefdom. The high priest of this tendency is Alain Passard, who transformed his Michelin triple starred L'Arpege restaurant, situated among the splendid government offices of the 7th arrondissement, into a world-renowned centre for vegetable wizardry.
Passard receives me in his adjacent studio office, looking rather like a senior rock star or trendy architect in his jeans and white Repetto dance shoes – the last time I saw a pair of those was on Serge Gainsbourg. Passard's Damascene conversion was due to a desire for new inspiration. "I'd gone as far as I could with meat cookery, it was as though I'd just finished a book. I wanted a new style, a new sound.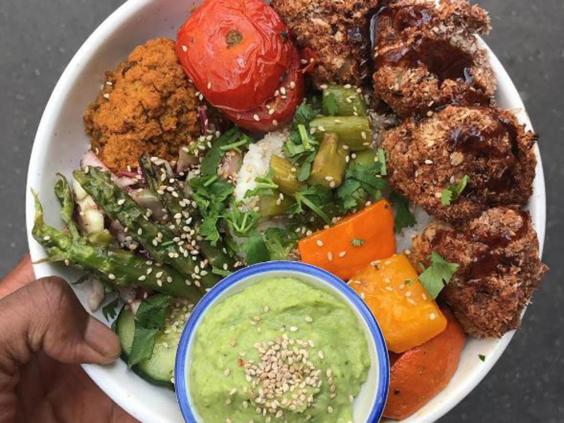 Weep carnivores, weep: a plate of 'ital' goodness from Le Tricycle
"Cooking has its own music" – Passard plays piano and sax – "there's a different music to cooking vegetables… a chicken on the stove doesn't sound like an aubergine". Was it due to animal welfare considerations? "No," says Passard, "I'd spent 30 years cooking meat, and I still have some animal dishes on my carte. After the rupture, I put all my animal cooking technique at the service of vegetables". Like his famous roast beetroot, for instance? "Voila!" says Passard. His cooking now relies on precision, and top-quality ingredients, which arrive daily from Passard's two kitchen gardens outside Paris.
Like any high priest, Passard has his disciples. Le Fooding has dubbed them "Arpeggios", and their work may be the most gastronomically interesting of the whole veggie upheaval. The list of chefs who have graduated from the kitchens of L'Arpege to found their own highly esteemed restaurants includes Bertrand Grébaut of Septime. He makes a point of frequent and creative use of vegetables. Try Septime's roast cauliflower, Passard tells me – and I will, like a shot, so long as Grebaut lays off with the vromage.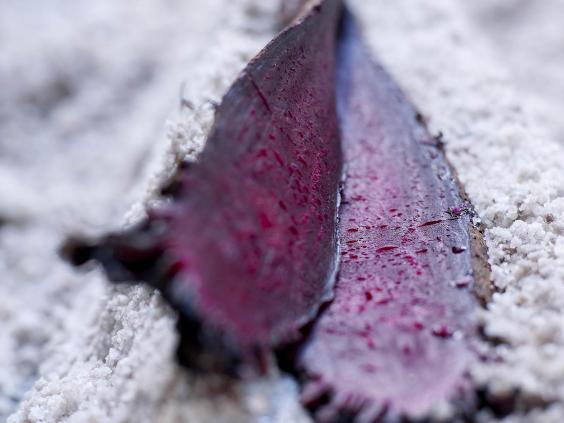 Just beet it: a veritable flesh in the pan is beetroot
Alain Passard's beetroot in grey guerande salt, recipe
Serves 4
1 large red crapaudine beetroot, approx 400 grams
2 kg grey Guerande salt   
50 grams cool butter
I bouquet fresh herbs, ideally chervil, tarragon, parsley, coriander.
Old Modena Balsamic vinegar
Delicately clean all soil from beetroot with a soft brush, taking care not to break the skin.
Place beetroot firmly on base of salt on a baking tray, then cover entirely in a pyramid of salt. Cook in oven preheated to 140C for 2 hours.
Remove and allow to cool still in salt pyramid for 40 mins. To serve, break the crust, take out the beetroot without tearing the surface, cut lengthways into 4 equal slices. Serve on hot plates with butter melted and infused with the herbs.
Optionally, sprinkle with black pepper and a little balsamic.
Reuse content