As news about the health benefits of vegan and vegetarian diets spreads, people are getting more and more creative with how they eat their greens.
Anyone who's dedicated to plant-life knows it's not easy. Finding a good veg-friendly restaurant is a struggle, and homemade meals can be bland and unsatisfying, unless you're a chef.
Sure, you can jump on the meal-kit bandwagon, but what's the likeliness that they'll cater to your tastes, literally?
Well, we just found out that it's likelier than you might think.
In an effort to maintain a balanced meat-free plant-based diet and squeeze all the nutritious juice out of those fruits and veggies, we've dug up highly regarded vegetarian and vegan friendly meal delivery services and tried them out. Here are our favorites.

1. Purple Carrot
A plant-based meal kit company, Purple Carrot delivers fresh, pre-portioned ingredients and simple step-by-step recipes to your doorstep to be turned into healthy, plant-based meals at home. Why? Because eating plant-based meals "has a positive impact on people's health, the environment and animal welfare." Purple Carrot encourages people to eat consciously while not completely giving up meat, fish and dairy, and become a "balanceatarian"—someone who consciously integrates plant-based eating into their life while not completely giving up meat, fish and dairy, according to the brand. Each week their chefs create new, seriously creative plant-based dishes inspired by seasonal flavors. Our favorite was a dairy-free quesadilla with a unique lime enhanced twist on vegan mayo that provided the creaminess you'd want from a sour cream without tasting all … mayo-y. The instructions were easy to follow, and the recipes actually were all under 30 minutes.

2. Sakara
When the premade Sakara meals arrive at your door, you'll feel like the effortlessly beach-chic and fit blonde woman you've always wished you were. And it makes sense—that's kind of the vibe their founders give off. Sakara is an organic, plant-based nutrition plan delivered to your door. They rely on high-quality ingredients and superfoods to create inventive dishes like the celery root and buffalo cauliflower burger. These are the kind of meals you look at and worry how you'll be full after, where you're not entirely sure what you're eating but you're confident it's OK. Then, somehow, at the end of the meal, you are totally satisfied. The waters are a little weird, but we dig it.

3. Terra's Kitchen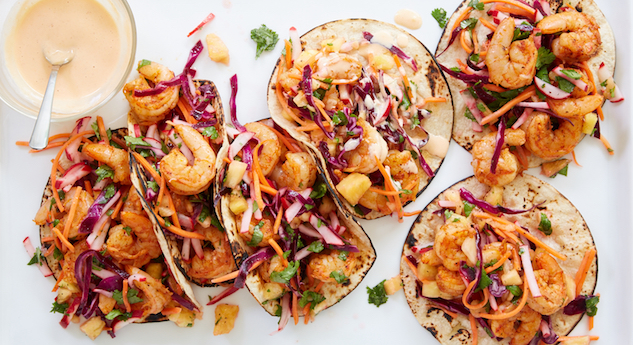 If you're looking for more comfort food, Terra's Kitchen is the way to go. Another recipe-reliant option, Terra's Kitchen sends pre-prepped high-quality ingredients in a very impressive climate-controlled Vessel. The eco-friendly delivery Vessel is reusable, and Terra's Kitchen picks it up the next day to reuse up to 100 times on future orders. Protecting your body, and the environment in one bite. Their recipes are based on the "Mediterranean lifestyle." And we've all heard how healthy—and stunning—that is; it reduces inflammation and has proven cardiovascular benefits, according to Terra's Kitchen. While it's not exclusively vegetarian or vegan, those diets are taken care of. But it's also a great option for those who have a meat-eating (even paleo) family member. We highly recommend the Buddha Bowl and Vegan Power Bowl, if only for the super creamy and flavorful veggie-based dressings. The tofu tacos are a satisfying yet healthy substitute for your Taco Bell craving.

4. Veestro

Veestro provides incredibly delicious plant-based meals—all organic, no preservatives and non-GMO. They are already cooked and freezer friendly. Just heat when you are ready to eat. Their mantra is: Plants Please. Your taste buds. Your body. Your schedule. Their veggie empanadas are the perfect easy lunch or afternoon snack, and their curry turned this fearful curry-eater into a fan.

5. Chef'd
This meal plan marketplace has partnered with healthy havens like Atkins, Runner's World and Vegetarian Times (our favorite publication, after Paste) to create meals that fit into the health and wellness category. You can subscribe to a plan or order a la carte. And while Chef'd offers tons of meats and some guilty pleasure foods, too, everything is relatively good for you (you, your soul, same thing) and they have a handful of options for us healthy herbivores like pesto zucchini noodles.